Re-roofing Your Home
Sorry, we no longer offer re-roofing. But if you're looking to re-roof, below is what you should look for in a new roof.
These are the basic steps involved in replacing your old roof with a brand new roof by Maximum Roof Care roof. It's not so much what we do, but rather how we do it that makes the difference.
1. Tear off and disposal of your existing roof(s).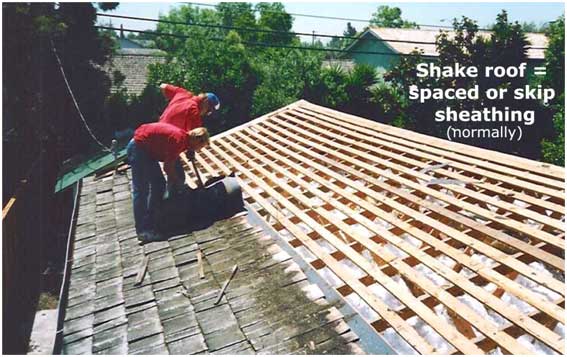 If you have a wood shake roof, our crew tears it off right down to the sheathing. The above photo shows a shake roof with spaced or skip sheathing. This is the construction normally found under a wood shake roof.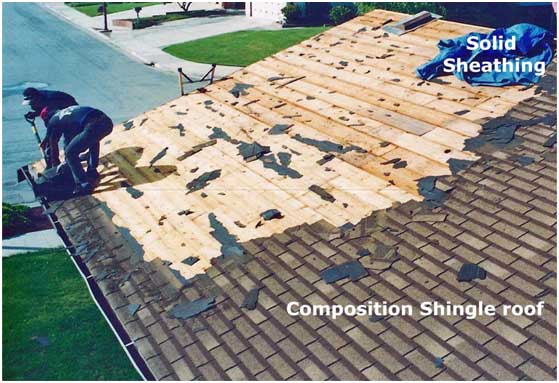 The sheathing under a composition shingle roof will typically be plywood or 6" or 8" lumber creating a solid deck as depicted in the above photo. You can usually look up inside of your garage to find out why type of sheathing or roof decking your house has (if there is not dry wall on the ceiling). Sometimes a composition shingle roof may have one, two, or three layers of roofing that should all be removed.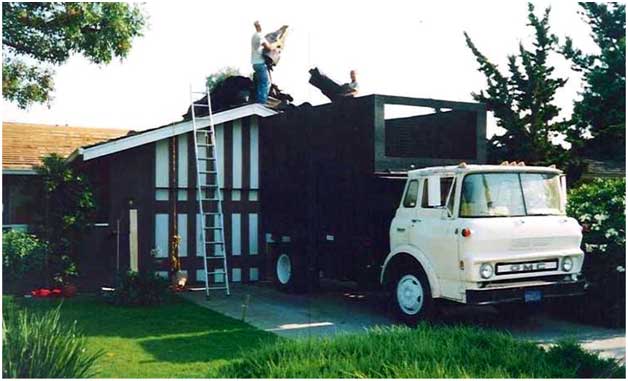 All roofing debris is tossed into our dump truck and hauled way. Average tear off time is ½ day. The truck drives off takes it to a recycling facility. We do not leave dumpster sitting in your driveway for a week like some contractors do.
Inspect for dry rot & termite damage before roofing
After the tear off, we inspect all sheathing to make sure there is no dry rot or termite damage. Since dry rot starts on the top of the sheathing no one can give you an accurate estimate of dry rot damage until after the roof is removed.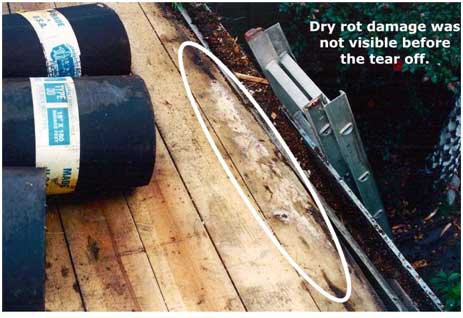 Dry rot is caused by a fungus which continues to spread until treated or removed.

Repair costs, if any, are only about one fourth of what they would be with the roof on. If any repairs are necessary a change order will be written and we will obtain your approval before proceeding.

The two photos above show completed eave repairs made to the sheathing (8" V-rustic).
2. Install ½" OSB sheathing over all spaced sheathing
Materials are loaded and stacked on the roof top.
If your roof was wood shake and you want a composition shingle roof, you will need to have solid roof deck installed first. We recommend installing ½" OSB (Oriented Strand Board) over all spaced sheathing. It's what you see on almost all new construction. OSB has the same exterior ratings as plywood, but cost less, without any sacrifice in quality. OSB's 16 layers make it stiffer and more impervious to termites than 3 layer plywood.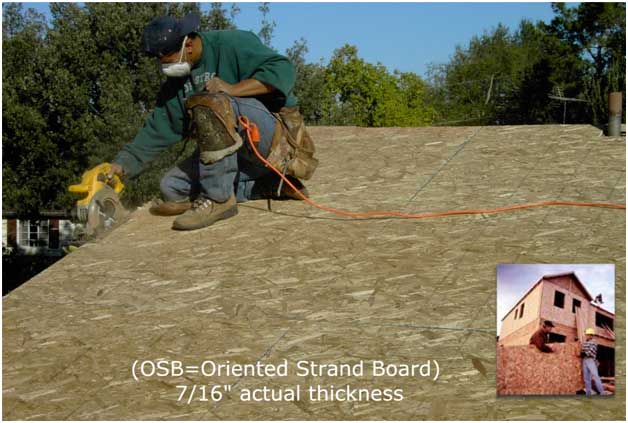 Correct installation is vital here. Many contractors just install OSB this the easiest way. We install it the correct way as specified by the (APA) American Plywood Association.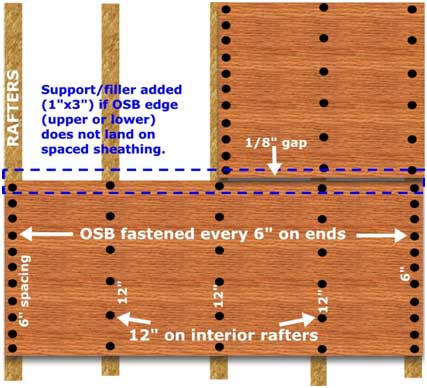 The OSB is fastened every 6" on the rafter ends of the OSB and every 12" over the interior rafters. Each sheet is off-set from the previous course (full sheet, then half sheet). This off-set makes your house much stronger. If the top or bottom long edge of the OSB does not land on the spaced sheathing below, we add a 1"x 3" support. This keeps the OSB from dipping down on one side when stepped on. It prevents future tears on the underside of your shingles where you can't see the damage, making your new roof last longer.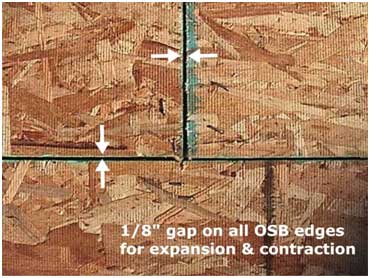 We install a 1/8" gap around each sheet of OSB for expansion and contraction. Yes, this is required. Yes, this takes longer to install, which is why some contractors don't bother. You want to have a great roof installed? You need to have a great foundation; an OSB roof deck installed the right way!
3. Install heavy duty 30lb. 36" roofing felt.
We use heavy duty 30lb ASTM roofing felt on all of our roofing jobs. Watch out, others may only be using 15lb felt. Roofing felt (or tar paper) contains waterproof asphalt which is a second barrier for your roof. Felt also seals around the nails when your shingles are installed. Over time felt will dry out and when your felt dries out it loses its waterproofing capability. 15lb felt will dry out much faster than 30lb felt. You want longevity in a roofing system? You'll want to have 30lb roofing felt correctly installed.


4. Install pre-painted metal valley flashings.
More water runs down your valleys than any other place of your roof. Valley flashings are either 18" or 24" wide depending on the type of roof you have. Shingles are installed over the valley flashing and then cut short of the center line creating an open center for water to run down. Most contractors buy galvanized valley flashings then spray paint them to match the shingles. Look at these same roofs a year later and the paint will be already flaking off. Maximum Roof Care buys valleys pre-painted in a complementary color to your roofing shingles. Our valleys have factory baked-on enamel paint. This difference is longevity, and is virtually maintenance free. You will never have flaking paint with our valleys.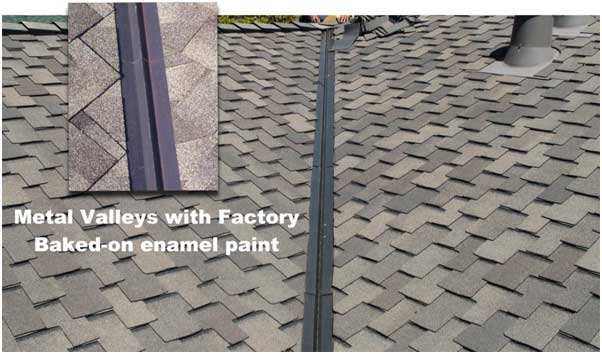 5. Metal edging/nosing will be installed around the roof perimeter.
Metal 2" x 2" flashing is installed around the perimeter of the roof. It covers the exposed edge of the OSB and keeps it watertight. Its factory painted with baked-on enamel paint, just like our valley metal.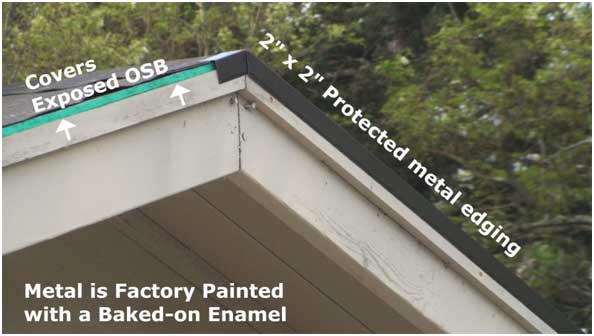 6. Replace heating & plumbing roof flashings; seal & paint roof color.
There are two main types of pipes that penetrate through your roof:
1. Plumbing roof flashings are the ones without top flashings (see photo below). The metal flashing around the pipe keeps water from leaking inside the house. These pipes allow air into your sinks or toilets pipe lines. Maximum Roof Care installs all new pipe flashing and paints them to match or compliment your roof color. The area between the new flashing and your pipe is sealed with a lifetime rubber collar to keep out all rain water. Other contractors use tape or caulking to seal, which can un-ravel or separate. Attention to details like this means decades of maintenance free protection for you.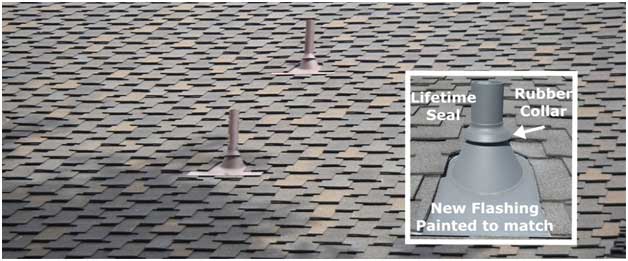 2. The roof flashings with tops (see photo below) are usually from the furnace, water heater, and bathroom and kitchen exhaust fans. These are also painted to match or compliment your roof color.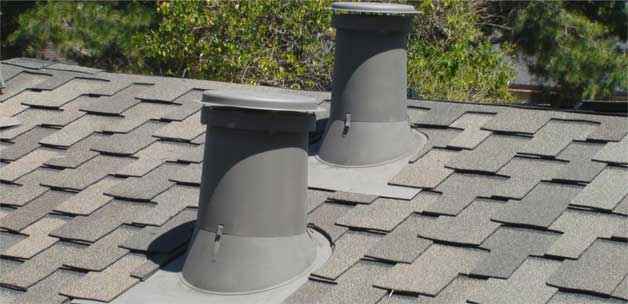 The parts that we use on your roof are called "system components". They are roofing parts that are made to work together and produce a superior roofing system. GAF Pro-Starter Strip for example, is installed around the entire perimeter of the roof. Most contractors will just use the cheapest starter they can find. Maximum Roof Care uses Pro-Starter Strip because of its superior performance. Pro-starter Strip contains a "Dura Grip" adhesive sealing strip that seals itself to the shingles installed on top of it. This makes the entire perimeter of your roof much stronger. This is very important, because when strong winds hit your roof, the up-lift is strongest on the roof perimeter. It works, even in gale force winds. That's why we use the manufacturers made Pro-Starter Strip. It's a critical component of your roofing system.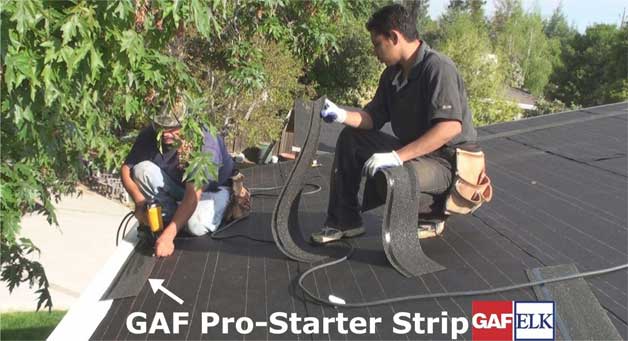 7. Install your selected shingles.
A Maximum Roof Care estimator will provide a complete written estimate with at least 5 roof types or grades to choose from. We will also show you samples and give you brochures and explain the advantages and disadvantage of each roof or shingle type. Then you decide what type of roof you like and can afford.
Maximum Roof Care installs most residential roofing products including:
Composition shingles, Asphalt, or Fiberglass (3 different names for the same product).
Lightweight tile.
Wood shakes.
Modified Bitumen (for flat or low-sloped roofs).
By far, the most important part of your new roof is not the shingle you choose, but the contractor you choose to hire. Most shingles today have a 30 year to a lifetime manufactures warranty. But if they are not installed correctly you will not have any warranty at all.
How often are shingles installed incorrectly? After over 23 years of roof inspections performed for real estate agents, we estimate 7 out of 10 shingle roofs are incorrectly installed. Most commonly, they are not correctly nailed. The manufactures specification state "all nails must hit the nail line." The nail line is the thin white line near the middle of the shingle. Many contractors for years have been nailing an inch or more above the nail line.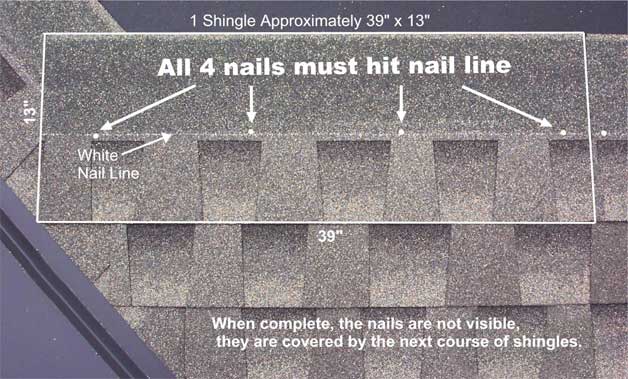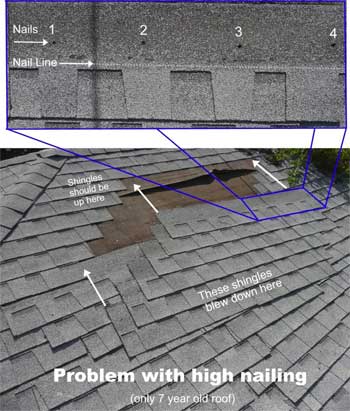 The problem? Most shingles are actually two pieces laminated together. The nail line is where the two pieces overlap. If you miss the nail line, the nail will be fastened through and holding only one layer instead of two. In wind, shingles nailed on the nail line through both layers will have more than twice the holding power than those that miss the nail line. The photo on the right shows a real life example of the common problem of high nailing.
Can you inspect for high nailing? When your roof is completed there are no nails visible. The next course covers up the previous shingle course. It's not practical to lift the shingles up after they are installed to check the nailing, because the seal strip under the shingle might break if the shingle is lifted up. This is why hiring a competent and trustworthy contractor, even if it costs a little more, is money very well spent and is the most important part of your new roof. It is much more important than even price you pay. Because if it's not installed correctly, you risk the chance of losing everything and you might have to even replace your brand new roof. It's not worth the risk hiring the low bidder. It is better to hire a quality contractor the first time.
Maximum Roof Care installs a truly professional roof. Not only will it be nailed correctly, but you will see straight shingle courses, straight valleys and straight trim and ridge, just like you would expect. This is easy to say, but hard to do. It takes a professional that really cares about their work to produce a quality roofing system.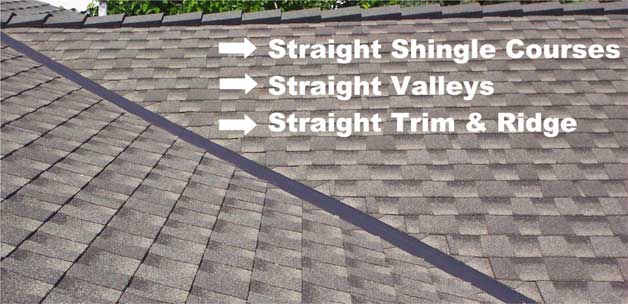 8. Install ridge vent attic ventilation system on applicable ridges.
Proper attic ventilation is important and now all major shingle manufactures require proper attic ventilation as part of their shingle warranty. Without proper attic ventilation your shingles will get too hot, which will shorten the life span of your shingles, and cause your house to get too hot inside during the summer.
Proper attic ventilation has two components: Intake and Exhaust. Cooler air enters at the attic space through your eave vents. As this air warms up, it rises. Hot air needs a place to escape or exhaust, so it doesn't super heat your house during the summer. Exhaust ventilation near the peak of the roof (at the ridge) is ideal.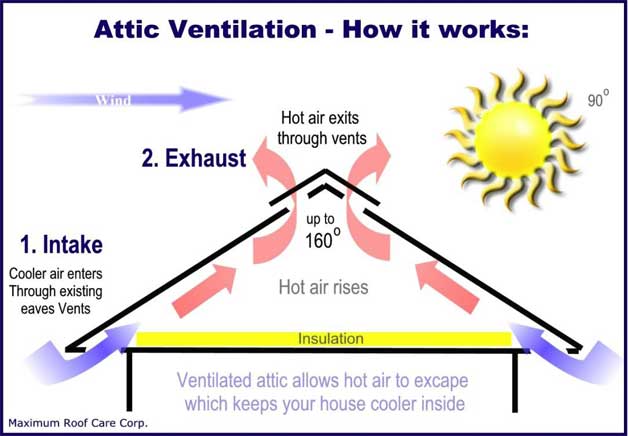 Most houses have adequate intake ventilation through eve screens, but lack adequate exhaust ventilation. Some of the traditional intake and exhaust methods are shown below.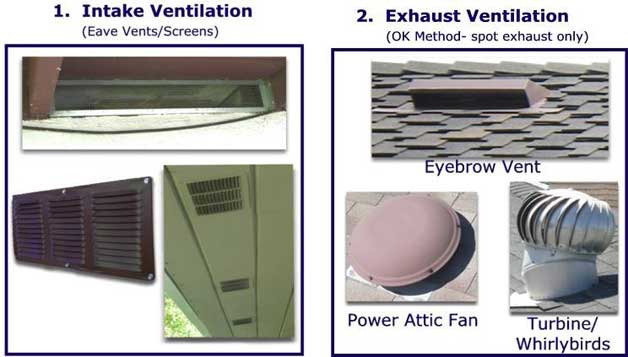 The best, most efficient way to add exhaust ventilation is by adding a ridge vent system. The photos below show how we build it: We cut a ¾" slot down each side of the ridge beam. Felt and shingle up, and put a special type of a ridge system that keeps out the rain and allows hot air to exhaust out.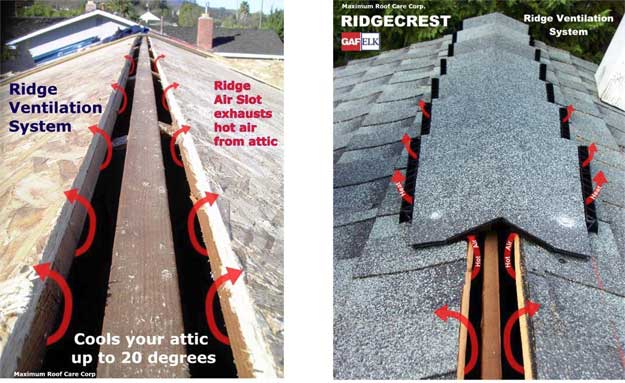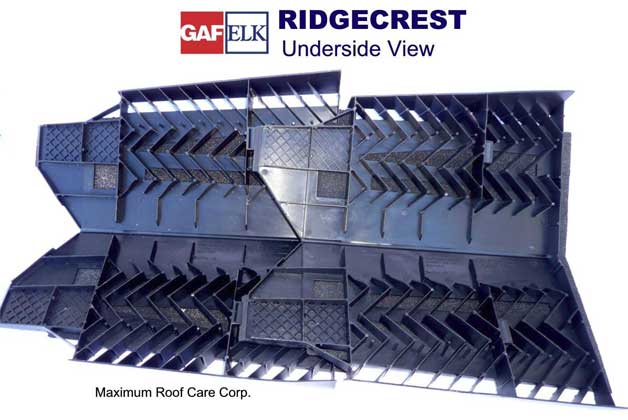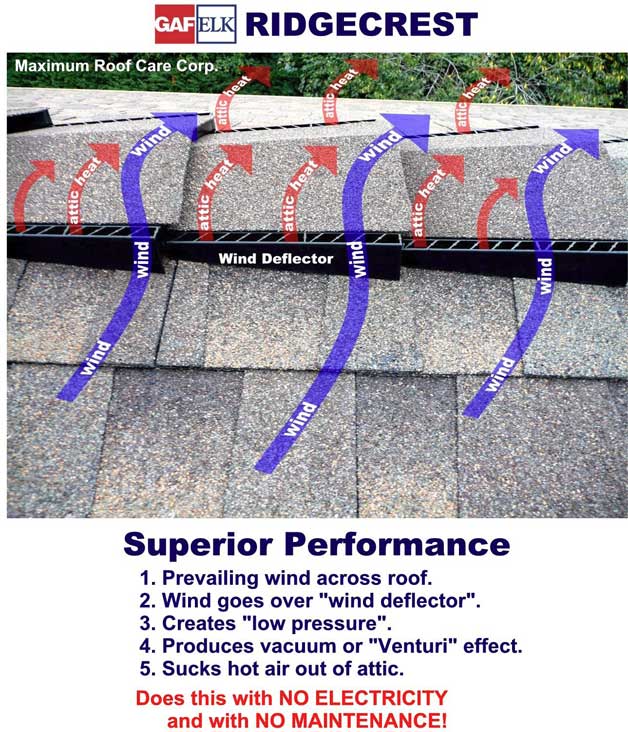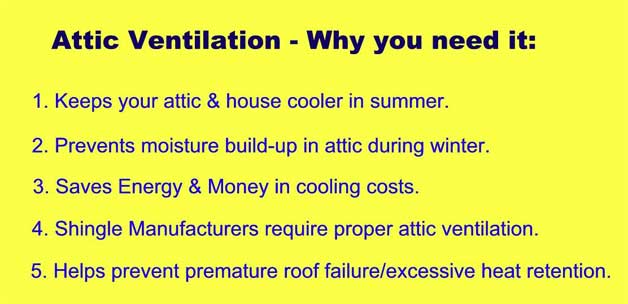 9. All hips will have high-profile caps installed.
Ridglass is another system component manufactured by GAF to ensure an exact match in color and durability. Our roofers chalk a line to insure they are installed perfectly in-line.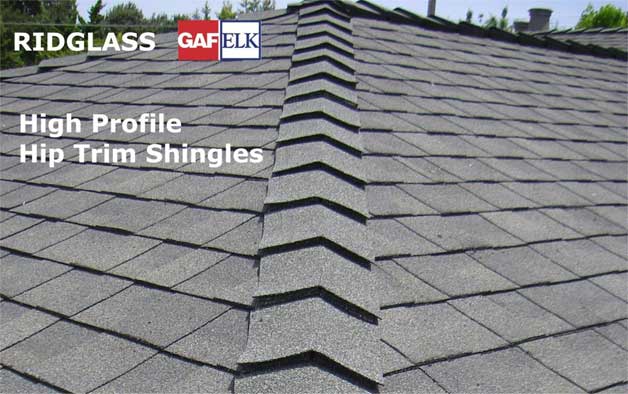 10. Re-roofing building permit and all city required roofing Inspections are included.
Almost every city in the bay area requires a permit to roof your home. Some contractors do not secure permits. We do. This protects you by having a 3rd-party city inspector independently check your roof. Maximum Roof Care will apply for, obtain, and post the re-roof permit for your project. After the city inspector has signed the final inspection, we will give it to you to keep for your records. When you sell your house you will need full disclosure of what was done with or without permits.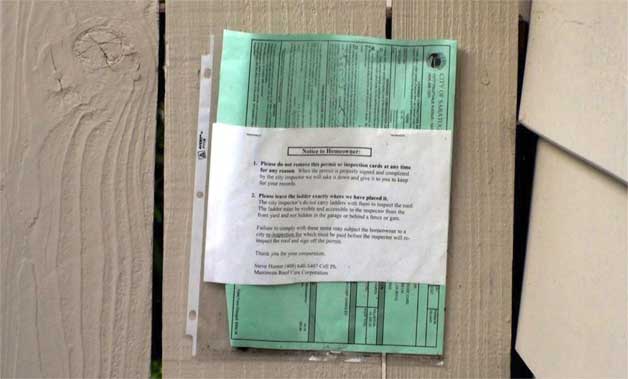 11. Includes replacing chimney flashing.
To reroof your house correctly, you'll want to have your old chimney flashings completely replaced. Many contractors just reuse your old flashings. We replace your chimney top saddle, bottom saddle, step shingles, and counter flashing. The counter flashing is sealed and all the new flashings are painted to blend in with your new roof. This is the best and least expense time to have your chimney flashing replaced and it insures a complete water-tight roof system.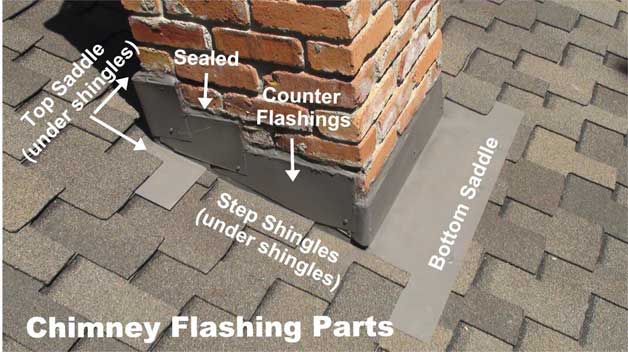 We also recommend that skylight flashings be replaced during the re-roof to insure a leak-free system.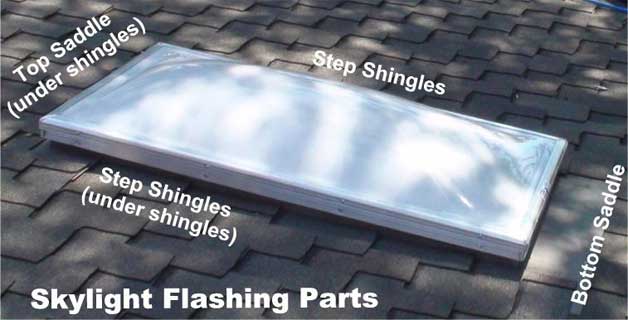 12. Complete clean up upon completion.
Maximum Roof Care will clean the roof off, clean your gutters and clean the grounds.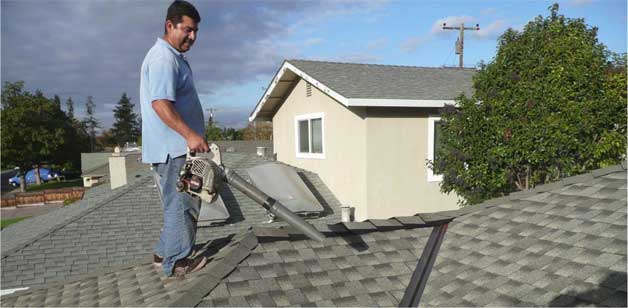 We even use a nail magnet to find hidden nails in your grass, shrubs, walkways & driveway.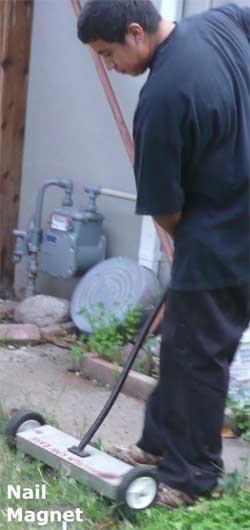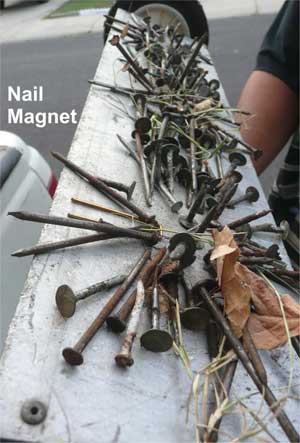 13. Display yard sign for 30 days.
A great way to show us you appreciate our hard work is to allow us to put up a company sign in your yard. This helps us keep our advertising costs down. In return, we will include a $200 discount in your project.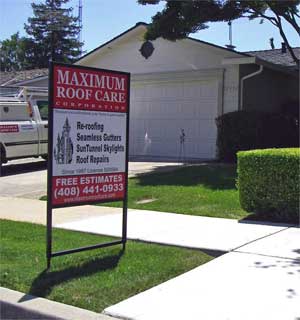 Roofing Options
Option 1: Install Seamless Rain Gutters & Downspouts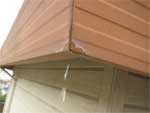 When Should Rain Gutters Be Replaced?
The ideal time to replace your gutters is the same time you replace your roof. Rain gutters will usually last about as long as your roof will. After your old roof is torn off, your new gutters should be installed, followed by the installation of your new roof. This way your roof will not be damaged during the gutter installation. Additionally, with your roof removed, the installation is easier. As a result, it costs less to have your gutters installed when you do it at the same time as you replace your roof.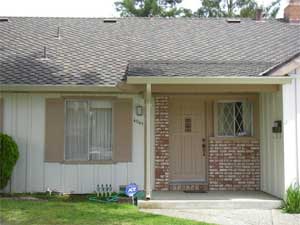 What Type of Rain Gutters are Best?
By far, the best types of residential rain gutters are pre-painted seamless rain gutters (often referred to as just "seamless gutters"). Seamless gutters come already painted (pre-painted) and contain a baked-on enamel paint protecting the gutters on both sides - inside and outside! This enamel gives the gutters up to 40 years of corrosion protection from the manufacturer.
How are Seamless Gutters Made?
The gutter metal comes on a large coil which is fed into the gutter machine and is formed in the shape of a gutter. The gutters are formed on site in your front yard, driveway or street.
Seamless gutter miter joints are riveted together for strength and then sealed with a professional grade sealant inside.

What styles of seamless gutter are available?
There are four styles (profiles) of seamless gutters. The most common and lowest cost gutter is the 5 ½" fascia gutter. The 5 ½" curved fascia gutter is a more stylish upgrade. The 7 ¼" is usually for tile roofs, and the 5" OG is a nice style often installed over fascia boards.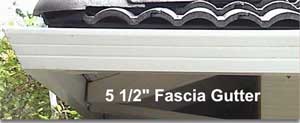 What are the Advantages of Seamless Rain Gutters?
Long Life - 40 years of baked-on enamel paint protection inside and out.
No extra seams to leak or drip from.
No priming or painting needed.
Downspouts are more resistant to clogging.
Less labor, better product.
Which Lasts Longer - Seamless Steel or Seamless Aluminum Rain Gutters?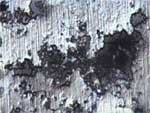 Seamless gutters are made of either aluminum or steel. Everyone knows that given enough time, steel will rust. But what happens over time to aluminum? The answer is aluminum "pits". So both aluminum and steel will corrode over time. Because both seamless gutters are protected with the same baked-on enamel paint, both are protected from corrosion and should last about 40 years. This is twice as long as the old traditional galvanized rain gutters.
What Advantages do Steel Gutters have over Aluminum Rain Gutters?
We install seamless gutters in steel or aluminum. We usually recommend steel because of the additional strength steel has over aluminum. A steel gutter is more resistant to denting. For example: When you put a ladder against an aluminum gutter, it will be difficult to keep it from denting (even the thicker gauge aluminum). A steel gutter is much stronger than aluminum and will not dent easily. Usually our competitors install only aluminum gutters. Our machines are stronger and can run both aluminum and steel. Since we do not charge more for seamless steel gutters, it is the better value due to its added strength. The choice is yours.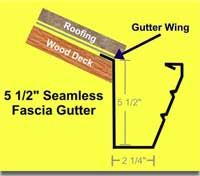 Should Rain Gutters be installed Under the Roof Edge?
Yes. We install our gutters with the "wing" on. The wing is the back of the gutter that flashes under your roofing. Our competitors usually cut off the wing to speed up their installation. This can result in an inferior installation and future problems with leaking between the gutter and the roof. We see this problem all the time and the homeowner usually doesn't find out about it until after it leaks.
Should Rain Gutters be Sloped or Tilted?
Contrary to what some think, professional gutters are not usually sloped. The gutters are designed to hold water. The gutter wing is installed flat on your roof deck to flash the gutter and to insure your gutters are straight, level and water-tight.

Where Should My Downspouts be Located?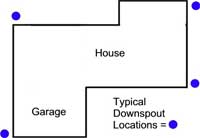 The purpose of downspouts is to collect and direct the flow of water away from the house and foundation. The ideal location for downspouts is usually at the corners of your house to reduce the impact water will have on the foundation and minimize any foundation settling. To reduce settling further, have the downspouts connected to an underground drain system that flows to the street or suitable drainage area. You also want to avoid having a downspout in a location that might pond water or receives frequent foot traffic.
What Color Choices are Available for Seamless Gutters?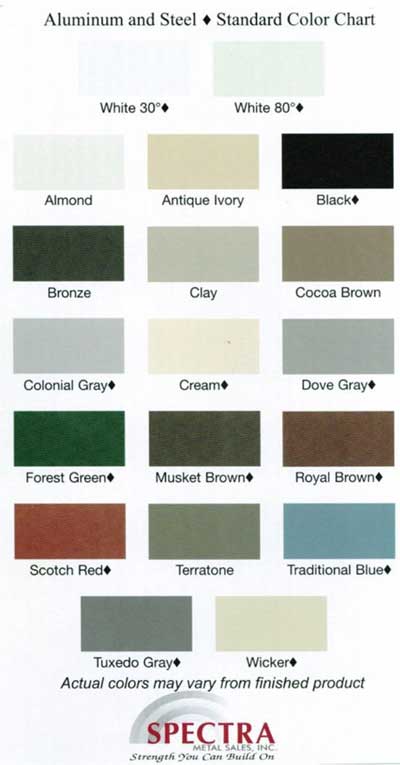 There is a nice selection of 19 common colors available for seamless gutters and downspouts. All colors are available in aluminum; steel colors are indicated by a black diamond to the right of the color name.
Tip: For best results, pick a color for your gutters (white is most common) and another color for the downspouts. The downspout color should be the color that best matches the siding where your downspout will be located. If the match is close enough you won't even have to paint over your downspouts.
Can I Paint Over my Seamless Gutters?
Yes, you can paint over your seamless gutters and downspouts at any time.
Option 2: Add Gutter Guards to help keep gutter free of debris.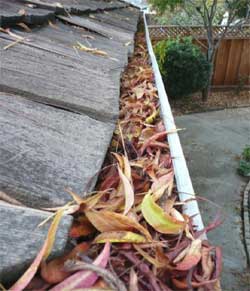 Tired of cleaning your gutters?
Complete your roof and gutter system with Gutter Guards TM. Gutter Guards helps prevent debris from collecting in your gutters. Many types of screens do not work. These work and it's because of their effective and simple design. The front edge clips onto the gutter lip and the back is installed under your shingles. See our installed Gutter Guards on the photo below. How will any debris get inside this gutter?
Gutter Guards are the only product that we know of that really works and is reasonably priced. The "micro screen" keeps leaves, pine needles, and very fine debris out. It even helps keep out the little shingle granules. You can see them on top of the screen in the photo below. And if your line of sight is lower than your gutters, your Gutter Guards are virtually invisible. Take one more thing off your "To-do list" by having Gutter Guards installed.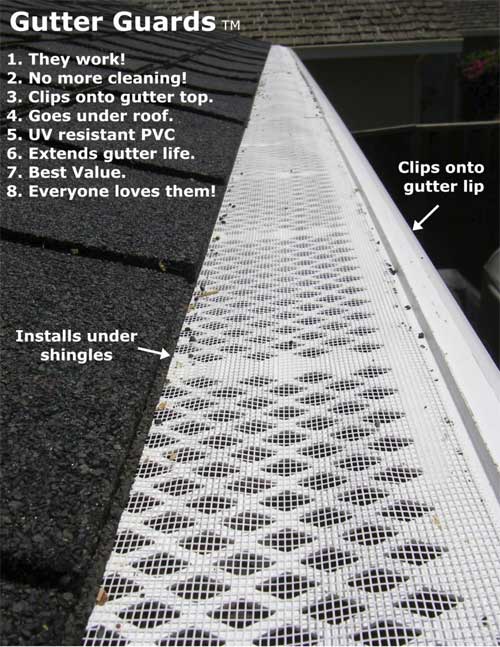 Option 3: Upgrade to Energy Saving Radiant Barrier OSB
If you need to add sheathing (OSB) to your roof, we strongly recommend upgrading to radiant barrier OSB. Radiant barrier is the generic name. TechShield and Polar Board are two of the brand names. Radiant barrier OSB has a thin layer of aluminum on one side of the sheet. The aluminum creates a barrier from the heat source (sun) that reflects up to 97% of the sun's heat and radiant energy. The results are attic temperatures are reduced by as much as 30% because less heat transfers from your roof into your attic which keeps the inside of your home cooler. The hotter it gets, the more it works. If you use an air conditioner, this translates into money saved because your air conditioner won't need to be operating as long or as often. If you are not using an air condition in the summer, this will keep your home cooler and more comfortable.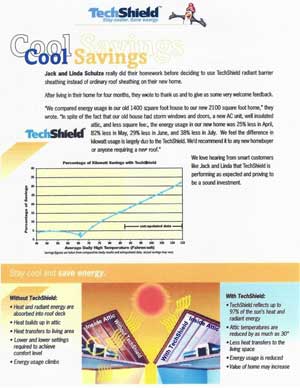 A composition shingle roof does absorb more heat than a shake roof. If you are going to install a new composition shingle roof, we strongly recommend upgrading to radiant barrier OSB. Radiant barriers are often required for new construction to meet current title 24 energy codes. Radiant barriers have been around for many years and are now more affordable because the radiant barrier is factory installed on the OSB. So the upgrade cost is just material upgrade cost, making it very affordable. Maximum Roof Care charges no additional labor to install OSB with a radiant barrier. You've only got one time to have this installed and that is when you reroof your home. Radiant barrier OSB and ridge vent together produce the best, most efficient results to keep your home cool in the summer.
Option 4: Spark Arrestor/Chimney Cap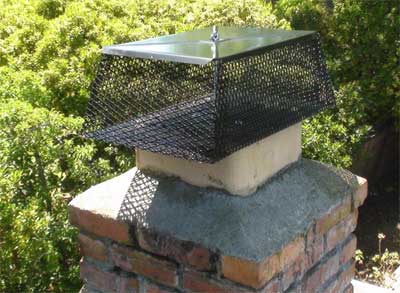 Keep your home and your neighbor's safe with a fire-safe chimney cap on every chimney. A chimney cap is now required in almost all cities in California since 1991.
Chimney caps do the following:
Prevent fires by keeping embers contained.
Keep birds & nests out of chimney.
Help prevent interior chimney rain damage.
Option 5: SunTunnel Skylights
Nothing makes a more dramatic change to your life at home than natural lighting. Nothing makes it easier and faster to add light to your home than SunTunnel Skylights™. In just 2 hours, we can transform your dark hallway, bathroom or kitchen into a bright, vibrant room by installing adding SunTunnel Skylights to your home today. SunTunnel skylights come in 14" and 21" diameter models.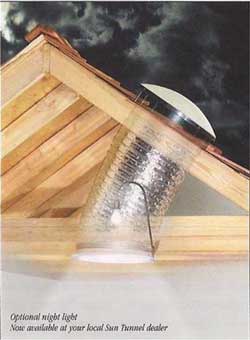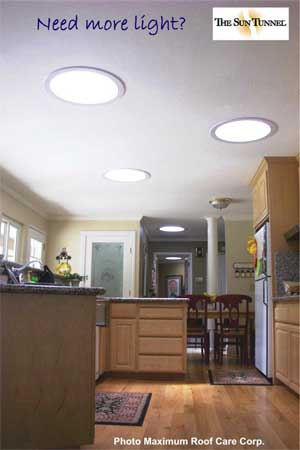 Option 6: GAF Weather Stopper System Plus Ltd. Warranty.
The standard shingle warranty that GAF offers has 100% coverage to the homeowner for manufacturers defects in their shingles for the first 10 years. After the first 10 years the shingles have pro-rated coverage. Meaning, over time a smaller percentage is covered; similar to a car tire warranty. The standard warranty covers the shingle replacement cost only. There is no cost for this warranty. It comes with the shingles as long as they are properly installed. In the chart below, the warranty is represented by the yellow and pink areas.
It's important to note what the standard warranty does not cover:
Does not include any labor (to remove or put in new shingles).
Does not include any of the GAF System Components.
Does not include tear off if needed.
Warranty is not transferrable.
Only Certified Contractors can offer the Weather Stopper System Plus Warranty. This is an outstanding extended warranty from GAF for GAF shingles. For lifetime shingles, this warranty gives you 50 years of non-prorated coverage for material defect. If material defect is found, GAF will cover 100% of the shingles at any time during the 50 years of warranty. In addition, it will also include 100% labor, GAF system components, tear off, and is even transferrable once. This warranty includes yellow, pink, and green areas in the diagram below. This is the best roofing warranty on the market and is very reasonably priced. We strongly recommend this coverage.